A Showcase of Greek and Greek-American Literature Held at Harvard University
From Hellenic News of America, June 16, 2016
By Lili Bita, Cultural Correspondent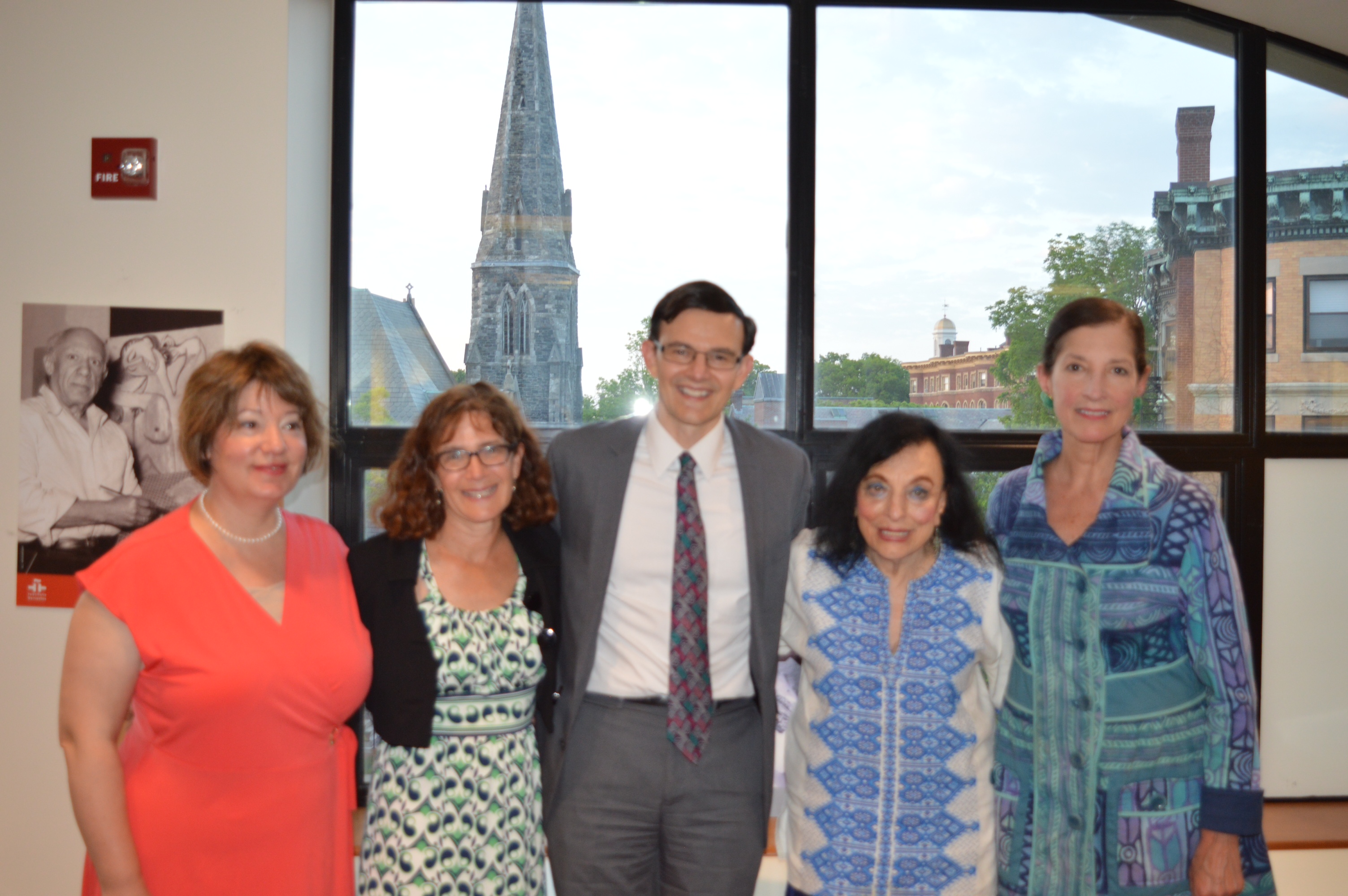 (From left) Vassiliki Rapti, Deahn Berrini, Dean Papademetriou (publisher), Lili Bita, Tanya Contos
On June 3, 2016, a Showcase of Greek and Greek-American Literature was held at Harvard University. The event was organized by The Advanced Training in Greek Poetry Translation & Performance Workshop and Somerset Hall Press. It featured readings and performances by several prominent authors of Greek ancestry, including this cultural correspondent.
All of the participating authors have had books published by Somerset Hall Press of Boston. It is one of only a few publishing houses in the United States that specializes in Greek studies. It publishes books about history, religion, philosophy, culture, and poetry. The founding publisher of Somerset Hall Press is Dean Papademetriou, also an attorney in Boston.
The following authors participated in the Showcase:
Cultural correspondent Lili Bita has published more than twenty volumes of verse, fiction, memoir, and translation. Actress as well as author, she has performed both classical and modern theater on three continents, as well as her own widely acclaimed one-woman shows, The Greek Woman through the Ages, Body Light, and Freedom or Death. Her work has been widely translated and anthologized, and she has held residencies and offered master classes at leading American universities. She was recently inducted into the prestigious Hellenic Authors Society in recognition of her lifetime body of work and her service to Greek culture.
Vassiliki Rapti, who was born and raised in Greece and studied Comparative Literature in Greece, France, and the United States. She is the author of six books, including the monograph Ludics in Surrealist Theatre and Beyond and poetry collection Transitorium. Her poetry is animated by the ludic (or playful) spirit and is imbued by surrealist imagery in an attempt to capture the intrusion of the marvelous in everyday life, yet it strives for simplicity in diction. She is Chair of the Ludics Seminar of the Mahindra Humanities Center at Harvard University, where she also runs the Advanced Training in Greek Poetry Translation and Performance Workshop. Besides her innovative teaching at Harvard, she also teaches literature and literary theory at Emerson College.
Tanya Contos has lived on both the Atlantic and Pacific Coasts of the United States, and in England. She holds a BA in Theatre and Russian Literature from Smith College. As a playwright, she has won the WGBH National Radio Drama Competition, an award from the Artists Foundation, and a commission from the National Heritage Commission. She is a former contributing editor of Boston Magazine and was a founding board member of The Mass Media Alliance. She speaks five languages and has written in several of them. She is the Director of the Writing Center at Hellenic College Holy Cross, and is the author of The Tide Clock and Other Poems.
Deahn Berrini grew up in the legendary Greek-American community in Ipswich, Massachusetts. Although she travels widely throughout the world, she has spent most of her life on the North Shore of Boston, where she now lives with her family, writes, and teaches. A graduate of Brown University, she is the author of two published novels, Milkweed and How to Earn Your Keep, and is currently putting the finishing touches on her third novel, A Song for the Roanoak.
Rapti's bilingual performance featured readings in English by Peter Bottéas, a psychotherapist in practice in Cambridge, Massachusetts. He spent many years as a translator, revisor, editor, and language consultant in Montreal, and is a member of the Advanced Training in Greek Poetry Translation and Performance Workshop at Harvard.